Thank You for an Exceptionally Successful Food Drive!
Words fail to convey our gratitude and appreciation to everyone for an exceptionally successful food drive!!  Your generous outpouring of dry foods and goods, supports outreach in our area which eases the burdens of the men, women, and children experiencing hunger and homelessness in our beloved Acadiana.  Your gracious response helped us deliver truckloads of food to Second Harvest Food Bank during the COVID-19 crisis. This organization, whose mission is to end hunger, distributes daily shipments to food pantries in Acadiana, including St. Joseph Diner.
The staff at the warehouse who received our St. Elizabeth Ann Seton donation expressed the following comments:
We are so amazed, grateful and appreciative for your donation! It's unbelievable!
We have food drives that are collected over a month's time and don't get half this much!
Y'all must have some Godly people at your church!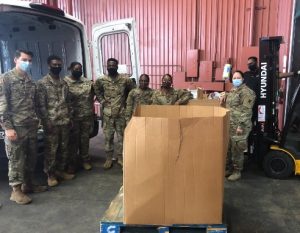 We are so thankful for your participation in this magnificent effort!  We would especially like to thank Breaux's Mart for their donation of the paper bags! We are so grateful to TMIY (That Man is You) volunteers who annually handle pick-up and delivery of our food drive collection. We extend heartfelt thanks to Jon Citron who coordinates the delivery.
Mother Teresa of Calcutta said, "I used to pray that God would feed the hungry, or do this or that, but now I pray that he will guide me to do whatever I'm supposed to do, what I can do."
May the Lord, our God, bless us in all that we undertake for His praise, honor and glory.