"Jesus said, "Let the little children come to me, and do not hinder them, for the kingdom of heaven belongs to such as these."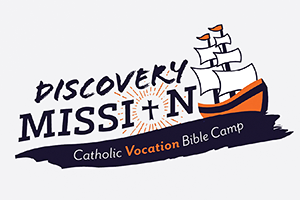 Children entering kindergarten through 5th grades are in for a real treat this summer when we conduct our Vacation Bible Camp (VBC) program. VBC consists of a Bible reading and activities that reinforce its message. The children also enjoy arts and crafts, music, games, and snacks. 
This year's theme is Discovery Mission, Catholic Vocation Bible Camp. Embark on a "Discovery Mission" to explore all Catholic vocations!  The central theme is discovering your mission in life—your vocation. Just as God led the saints on great missions all over the world, God has a plan for every child! Your life is an adventure; let God lead you! Keep your focus on God, and He will lead your vocation. He loves you and has a plan for your life.  We will also explore scripture and the Mission of the Saints.  Embark on Your Discovery Mission! 
Camp Week: June 26 – 30, 2023,  8:30 am – 12 Noon
Camp Volunteer Prep Week: June 19-22, 2023
Click here to register as a volunteer: Adults (18+) or Youth (6th-12th grades).
For more information, please contact Blake Paul Harson by email blake@setonchurch.org or by calling (337) 235-1483.